Diamond Del Fuego Head and Cab - Red Snake Skin
Diamond
OVERVIEW
The Del Fuego head is a quality handbuilt amp in the much sought after 60s British style. It delivers revered vintage-type distortion without the "domestic havoc" and its lightweight enough to save your back when giging. Each Del Fuego is hand-wired on a handbuilt fiberglass eyelet board using components selected for reliability and superior sonic character. Two channels, one with a foot-switchable tremolo (included). The Del Fuego uses three 12AX7 and two EL84 power tubes.
FEATURES
Made in USA

​​

Channel 1 controls: Volume and Tone

Channel 2 controls: Volume, Tone, Speed, Intensity

On/Off, Standby

Tremolo

3x 12AX7 preamp tubes

2x JJ/Tesla EL84 power tubes

Hand wired eyelet board

Cab 1x12 Vintage 30 @ 16 Ohms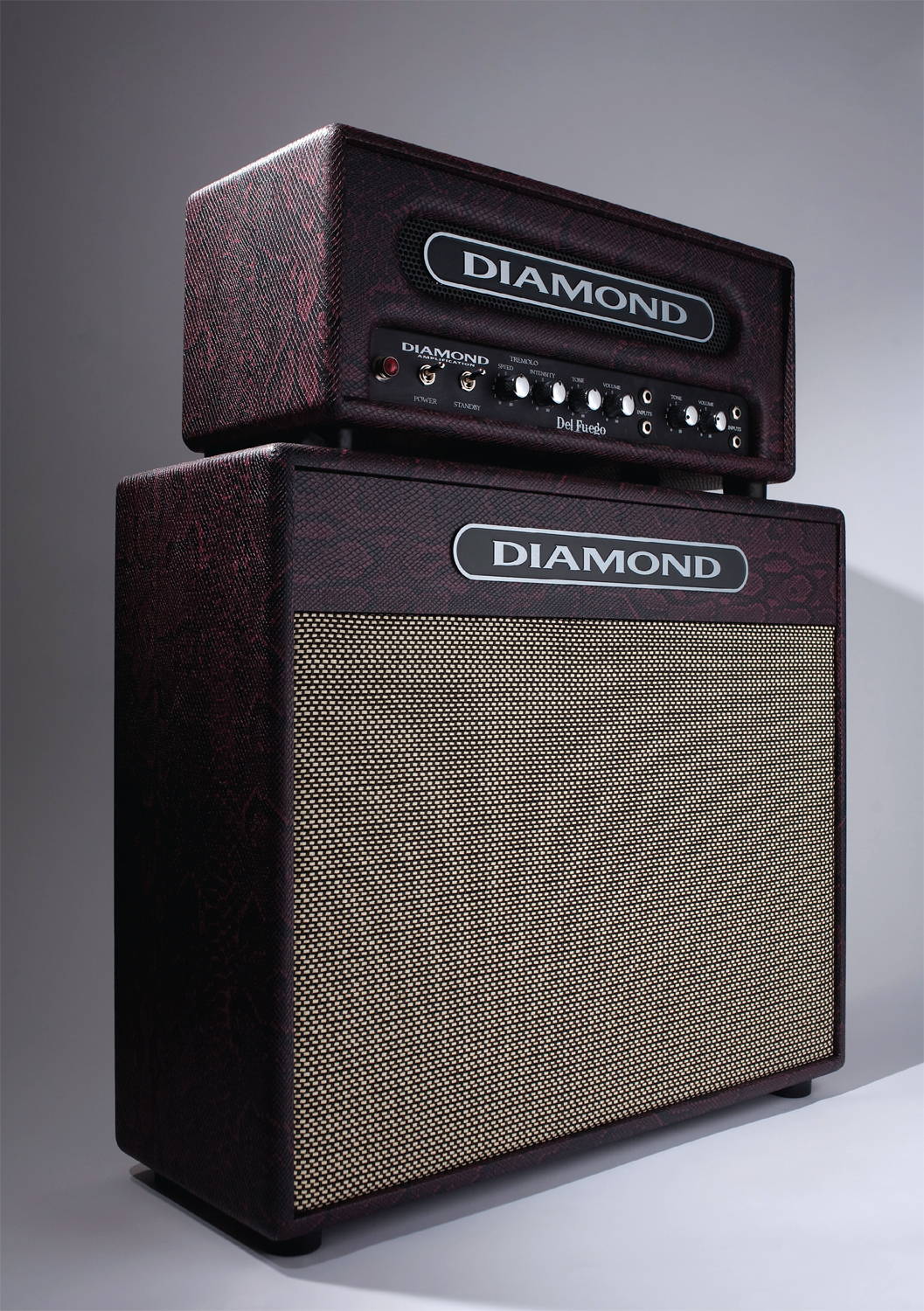 Diamond and Blankenship Partnership
The Diamond Del Fuego is one of the Class 'A' amps designed by Roy Blankenship. Roy was very well known in the Boutique field and made amps by hand to an extremely beautiful and high grade.
In 2009 Jeff and Roy formed a Partnership between Diamond Amplification and Blankenship Amps where Roy's designs were taken on by Diamond.
There's some great info in an interview which is shown on this video.
The quality of the Del Fuego is simply top class with it being hand wired on to an eyelet board using only top grade components. Diamond brought some incredible details such as the excellent cab construction, snake skin finish (love it or hate it) and the solid Zinc Diamond logo, demonstrating their strive for top grade.
Del Fuego
The amp is based on a British 60's Class 'A' 18w Marshall. Roy does change a few bits of the circuit for the better as he is an absolute genius when it comes to mods. The Del Fuego is silent running and a truly beautiful sound. It is actually quite a loud amp that will not break up until it is cranked. When you run it at gig level it is truly superb with an incredible compression and bloom on a classic Marshall tone. The Cab is also so complimentary and a perfect size with the open back nature making a perfect small venue rig.