Saxophone and Clarinet Reeds - Beginner Guide
The so-called reed is one of the most important pieces of woodwinds just like the clarinet or the saxophone.
Therefore, it is totally normal to be a little confused about choosing the right reed when you are new to this instrument.
We would like to help you with this by giving you some tips.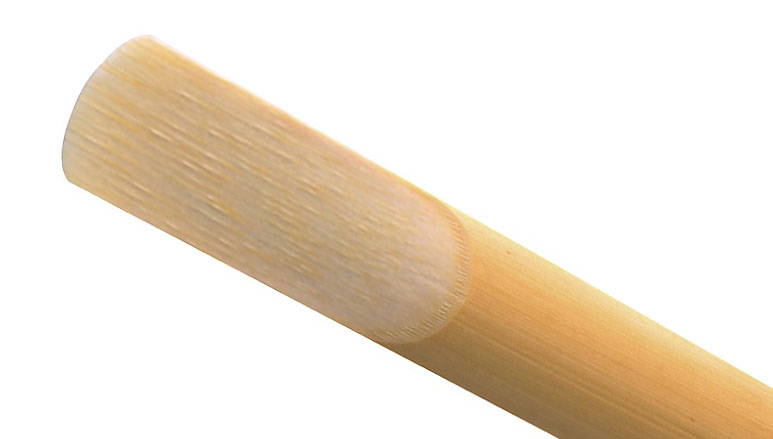 Which reed?
There are different strengths and cuts of reeds from different brands, all of them could unfortunately be a good or bad choice.
Most reed manufacturers produce reeds in different strengths, often in half-steps from 1 to 5. The higher the number, the thicker and harder the reed and the more resistance there will be in playing. Not every brand uses these numbers to show the strengths, some use "soft", "medium" and "hard" instead.
It depends on your level which reed you should choose. For beginners it is generally recommended to start with a 2.
If a beginner would start with a 1 or 1 1/2 reed, there may be some difficulty with playing very many notes because the reed is too weak to support the playing.
Please keep in mind, the strengths could be different from brand to brand. You could help yourself with the reed comparison charts below.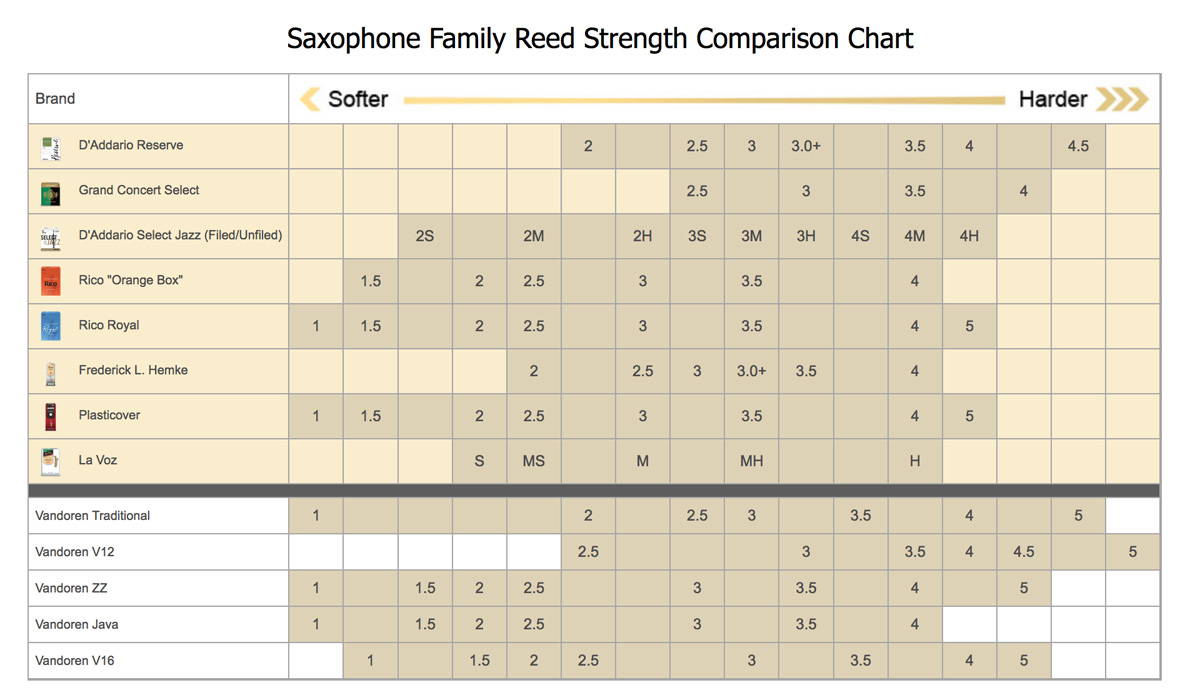 Harder reeds:
Heavier, thicker and fuller sound

Easier to reach higher notes

More difficult to correct the pitch or playing low pitches softly
Softer reeds:
Lighter and brighter sound

Easier to correct the pitch, the reed 'speaks' more easily

Harder to reach higher notes

Fast tonguing could be more difficult
Rico and Vandoren are both highly regarded brands.
We would recommend Rico as the best reeds for beginners because they are cut from the most flexible grade of cane and are very thin. Therefore it is easy for beginners to play their first notes without too much effort.
After some months of playing, you could upgrade to Rico Royal reeds which have a higher strength. The Rico Royal reeds are a little denser than the normal Rico reeds which helps you to reach lower and higher notes easier.
For players in an advanced stage, Rico offers the Rico Grand Concert Select and the D'Addario Reserve reeds. They are characterized by a special cut which helps to achieve a quick response, a more brilliant sound and a precise articulation.
Vandoren reeds provide a nice and rich sound through an extremely flexibility and are rather be suited for advanced players.
Longevity
To make the reed longer lasting, you should handle it delicately and dry it gently every time after playing it. Even if you care for it, there is no way to tell how long it will last. It is different from every single reed to another because of the organic structure of the cane which it is made of. Some reeds will therefore last for weeks, others just a few days. You should not longer use it if some parts are splintered or if the colour gets too dark.
To avoid or at least reduce these problems there is the possibility to buy the "Plasticover" reeds by Rico, which have a thin coat of plastic over them for a longer lasting than regular cane reeds.
---
As there is such a broad range of reeds below are some recommended products for beginners.
---