Pedal Train Pedal Board with Evidence Audio SIS Plugs and Monorail
I thought we should post a few of the things we regularly get through the shop. We sell Pedal Train Boards and stock the Nano+, Metro2, Classic 2, Nova 24 and have access to everything, usually within a few days.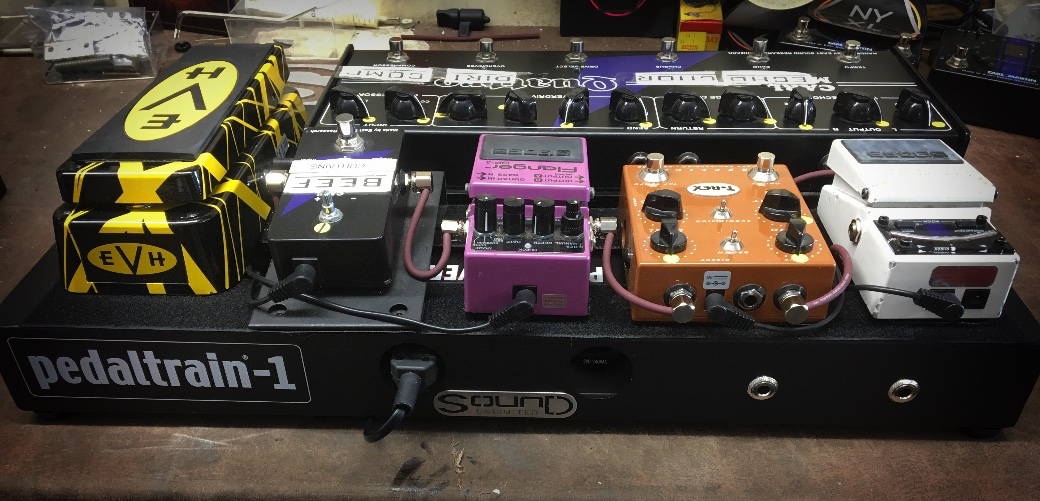 Sockets
I like to try and keep pedal boards as simple as possible from the setup side. I have also had masses of pedals come in on boards with broken sockets or intermittent faults. This is almost always caused by repeatedly plugging and unplugging cables.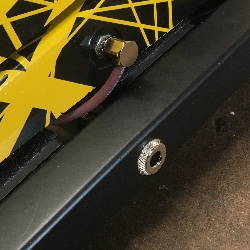 Neutrik Jack Input/Output
Having a Neutrik Jack on the side of the board is meant to save the socket on the pedals. It also makes it very simple to setup for 'roadies'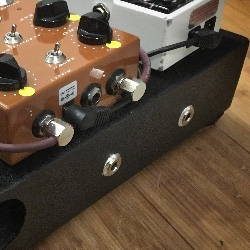 Effects Loop Send/Return
This is particularly useful. Not only does it save the pedal sockets but makes it much quicker to setup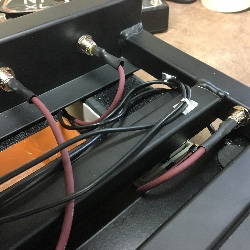 Underside
The Monorail is soldered in to the Neutrik Jacks and shrink-wrapped
This barrel jack can fit through a 12mm drilled hole in the board giving an ultra reliable connection. If it were to fail, it's a readily available part and can be fitted easily. This also allows you to bypass it by plugging directly in to the pedal in an emergency. Input jacks take the most abuse because they pick up all the dirt, beer and whatever else in on the floor where your lead is dropped.
If you use an effects return you can easily label or colour the back of the board to match a cable. Especially, useful when rushing during a short setup window or if you have someone helping you.
When fitting a metal barrel you may sometimes need to shield from the metal of the board. This stops a grounding hum. We use shrink wrap and nylon washers.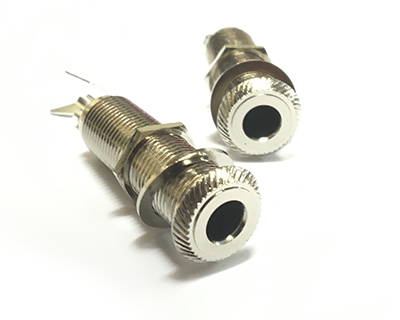 Power
You really want to avoid having too many individual plugs. Not only is it annoying to setup but mixing transformers, and having a big ugly 4-way behind the pedal board is asking for a 50Hz hum!
View our full range of Power Supplies for Pedal Boards here..
I often recommend the brilliant Carl Martin Pro Power which is very well priced, Isolated, variable output 9v/12v and (with the newer version 2) has 150mA minimum per output. Alas, this board needed something even the Pro Power couldn't deal with, ironically, a Carl Martin Quattro. The Quattro needs mains power.
The Voodoo Lab Pedal Power 2 has an IEC output which can be used to power pedals with a mains in. You cannot use it to power your amplifier. The Quattro just has an external plug with a transformer inside the pedal. I used an IEC connector to replace the plug which can remain permanently connected to the power supply. I also retained the 5ft of wire in case the customer wanted to revert to original at some stage in the future.
Another advantage of the Voodoo Labs products over the Carl Martin Pro Power is they are easily mountable underneath the Pedal Train boards with abracket kit.
The smaller Pedal Train Boards, which don't have a riser at the back, will not be able to take power supplies underneath.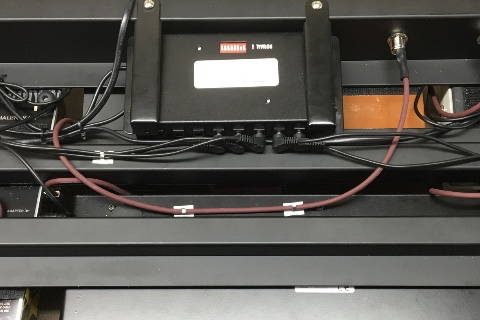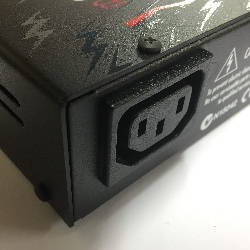 IEC Power Out
The IEC output can be used to power Mains Pedals or Pedals with transformers running off mains in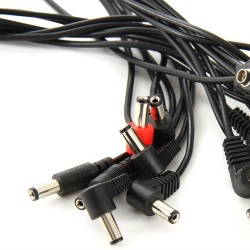 Leads
Lots of cables are provided with the Pedal Power 2. Including one which allows positive centre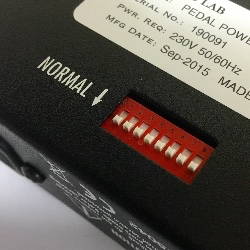 9v/12v mini switches
The mini switches allow you to switch the voltage between 9v and 12v. These can also be doubled with an additional item to make 18v and 24v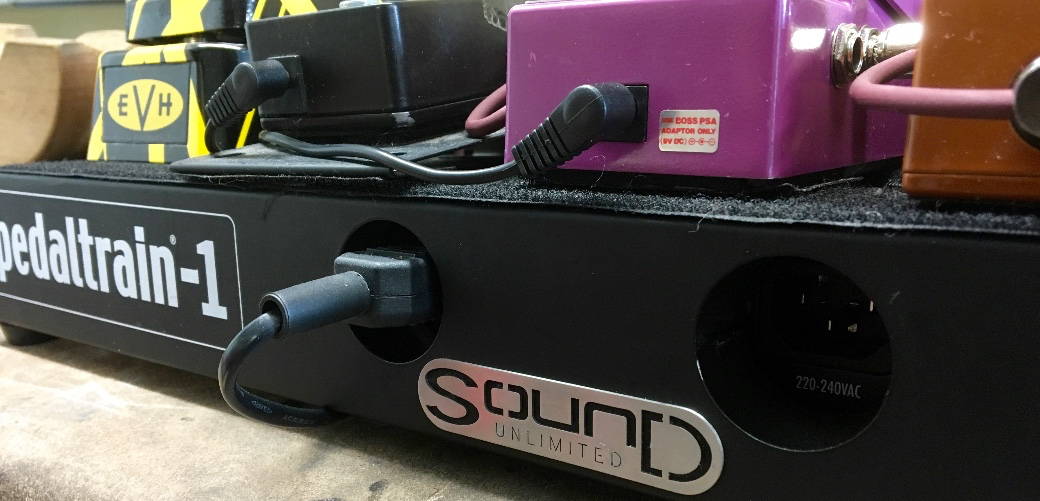 Patch Leads
I recommend Evidence Audio SIS Plugs with Monorail for all boards. It isn't cheap but it's worth doing.
These are solderless plugs designed with one of the highest grade copper cores in the industry. In terms of signal strength there really is nothing better in my opinion. The build quality is superb and the plug heads are among the smallest available.
I make them just using a sharp craft knife for stripping back the cable. Once you have made a few it doesn't really take very long.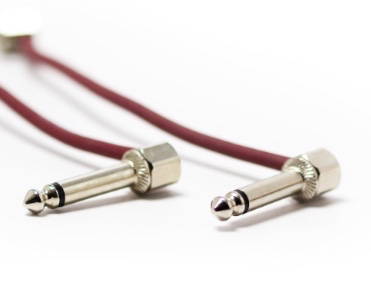 If you would like to know more about the SIS and Monorail leads it is worth having a read of our review here..
If you are absolutely terrible at 'hands on' there is another good option. It won't save you very much money but their cables are incredibly easy to make with just a push in coax. Have a look at the Planet Waves GP-KIT-10.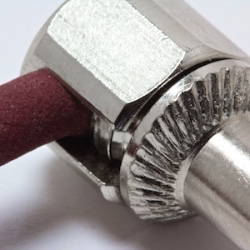 Solid Construction
Made in the USA with really solid, great design and consistency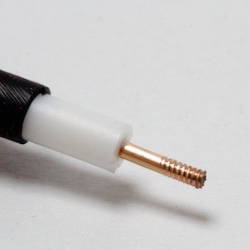 Solid Core
The core of the Monorail cable is solid IGL Copper which the SIS Plug threads on to creating a superb connection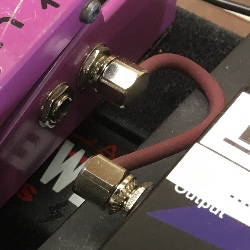 Compact
Having customisable cables is crucial to laying a board out well. The plugs are also tiny so you can put pedals close together
Pedal Board Owner
As a Guitar Tutor, Higher Education Lecturer & Session Musician, Simon Westaway spends a huge part of his week surrounded by music. This often involves the need to use his pedal board at various rehearsals, studio sessions or gigs. I wanted him to have an easier time on arrival. Instead of building and powering the proverbial 'train set' of pedals each time, he could just plug in one power lead, a few cables and get on with it.
This may only save a few minutes but when that is either rushing at the start of a gig or when packing away at 1am, simplicity matters.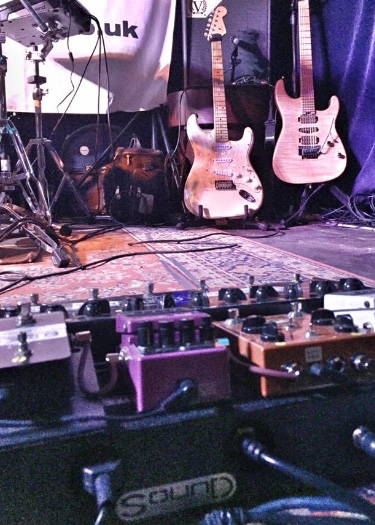 The Boss TU-2 is notably missing from the chain. This is because it radically affects the signal tone and dynamic due to the nature of the buffer. I highly recommend using the Tuner Out on the Ernie Ball Volume Pedal so the Tuner is not in your chain. You can also then control the volume as needed while tuning. It is sometimes useful to hear a little of what is going on while tuning.
For those interested in the Guitars and amp they are a Jeff Beck Strat, Charvel Guthrie Govan signature and a Victory V40 'the duchess' amp. Simon's website is www.swguitar.co.uk
If you are interested in a pedal board like this please let me know if I can help. We supply almost all the products mentioned, even though a fair few are absent from our site at the moment. I'll leave you with a YouTube clip of Simon with one of his bands Riviera Dogs at the Tavistock Wharf. Love the headstock cam and a great version of Toto's Rosanna. Enjoy!

Rich Turner
Guitarist, Guitar Technician, Soundunlimited
Thanks for reading, if you have any questions or queries please do not hesitate to contact me or comment using Disqus below.