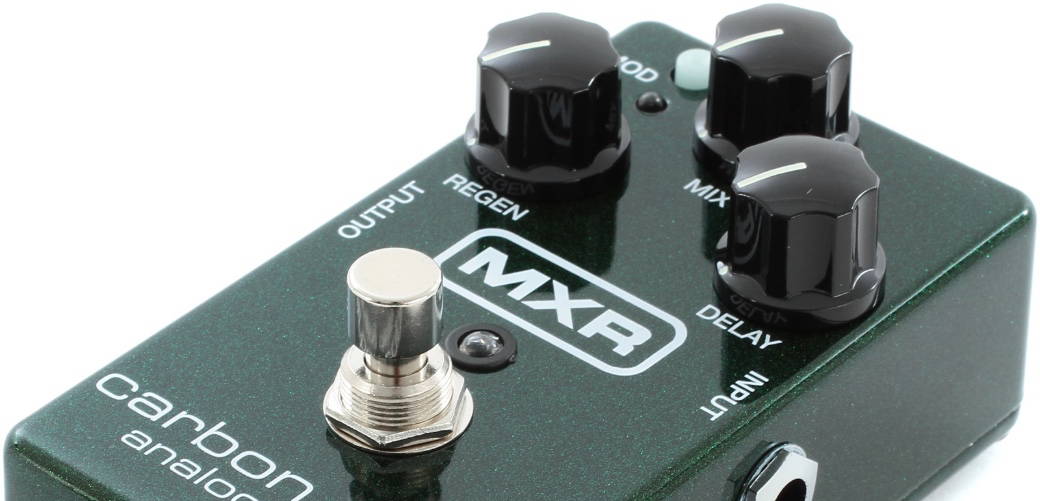 MXR Carbon Copy M169 Review
Many guitarists have a love/hate relationship with analog delay. As a fan of analog tone, I've always loved the decaying repeats of a nice, warm analog delay but I've always felt let down by short delay times or overly-muddy tone. With almost double the amount of delay time on offer than the majority of analog delays on the market and a simple yet effective modulation switch, the MXR Carbon Copy Delay goes the extra mile.
Boasting up to 600ms of delay, the sparkly green MXR Carbon Copy Delay is a real looker. It will gleam on your pedal board under stage lights and make most other pedals look a bit dull, with it's bright-blue On/Off and 'MOD' LEDs it will demand your attention even more.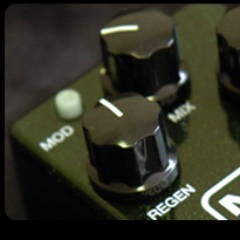 In the top left corner the MOD switch adds a small amount of modulation (a slight up and down pitch shift) to the delayed signal.
The LED below it is very clear to indicate this feature is on.
Key Features:
Volatage: 9vDC
Delay Time: 600ms
Manufactured: China
Controls: Regen, Delay, Mix, MOD button
Other: Battery Compatible, True Bypass, Analog
The Carbon Copy also features glow in the dark controls, such a simple idea yet so useful on dark stages. Housed in the classic "Phase-90-size" casing, if you've had any experience with MXR pedals you'll know that these things are as tough as they come. The controls all feel quality, they've got a bit of give to them and I doubt they'll be deteriorating in a hurry.
You can also get some excellent effects from playing with the dials whilst a sound is being repeated, great for creating soundscapes and big sweeping tones. So far we've got a pretty standard sounding analog delay, right? Well the Carbon Copy has a secret weapon. In the top left corner you'll find a little glow in the dark switch labelled 'MOD'. This switch adds a small amount of modulation (a slight up and down pitch shift) to the delayed signal.
The width and speed of the modulation can be adjusted internally with a 2mm flat-head screwdriver. Depressing the MOD switch will add what can be best described as width to your tone. To get those broad sounding, deep 'Pink Floyd' delays you'll enjoy the MOD control. It's a simple addition but it makes a big difference, especially when you're playing at louder volumes.
Being an analog (and true-bypass) pedal, the Carbon Copy will bring its subtle nuances to your tone. When the pedal is on it gives a subtle presence to your overall sound, this helps to retain clarity but it does not effect the comforting sound of those decaying repeats. From testing the pedal with guitar and bass I found that it did not in any way effect my EQ settings.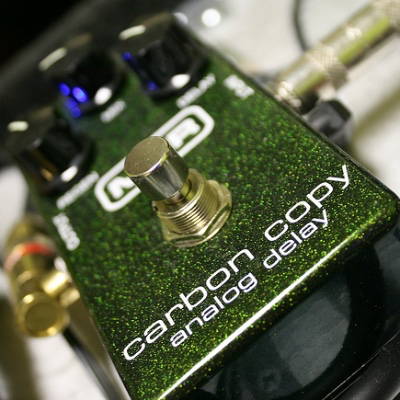 VERDICT
The MXR Carbon Copy analog delay will be at home with most genres of music. Fans of digital delay might want to give this pedal a go because it offers more than a standard analog delay pedal- up to 600ms delay time, subtle modulation and warm clarity. If you require a delay pedal for subtle ambience, the Carbon Copy won't let you down, or if you use delay as the back bone of creating riffs the Carbon Copy will provide you with a lot to play with.
---
Video Demo from Guitar Planet
This is a great YouTube video of the M169. You can hear a lot of the organic tones coming through and also see the controls being used.
www.guitarplanet.eu